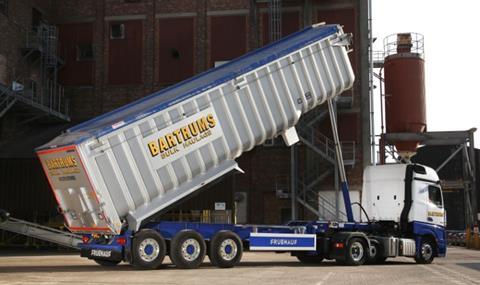 Bartrums has added three more Fruehauf stepframe bathtub tipping trailers to its fleet to boost its UK-wide malt barley haulage operation.
The order strengthens the East Anglian company's relationship with Fruehauf with which it has been dealing for more than a decade.
The 70 cubic yard capacity bathtubs join a fleet of 170 trucks and 250 trailers operated by the family-run business, which is building a new 80,000sq ft warehouse to manage the growth of its haulage work.
The vehicles are also used to transport agricultural products including grains and corn, oil seeds, wheat and feed products nationwide.
Read more
Expected to cover 130,000 km per year, the bathtubs are specified with front-access combined ladder and walkways, smartphone-enabled PM1155 weigh systems and a Dawbarn Hydroclear electric sheeting system.
Tremayne Johnson, operations director at Bartrums, said: "We're working the Fruehauf bathtubs hard seven days a week, transporting malt to breweries across the UK and barley to three major maltsters in Suffolk.
"The bathtub is an incredibly robust and reliable trailer that suits our business needs well. It offers an excellent tip and is easier to clean than a planksided trailer, making it exceptionally popular with our drivers.
"Fruehauf continues to be a great partner for our business. With the ongoing supply chain issues impacting the haulage industry, it has stock availability and offers competitive rates along with advantageous delivery times."