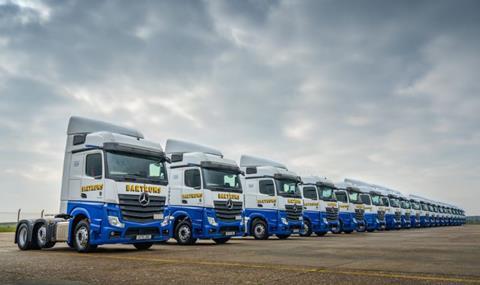 Bartrums Group has added another 20 fifth-generation Mercedes-Benz Actros tractor units to its fleet following an order of 11 it commissioned last year.
The move by the Suffolk family-owned haulier reflects the strong position in which it is emerging from the pandemic and its determination to future-proof the fleet.
It specified Mercedes-Benz Trucks' twin-screen Multimedia Cockpit for all 31 trucks, with features such as the open platform Truck App Portal, which enables fleet managers to assign apps to individual vehicles.
Tremayne Johnson, Bartrum operations director, said: "The Bartrum Group is committed to new technology and the benefits it offers in terms of increased efficiency, environmental compatibility and safety.
"We're keen, therefore, to explore the potential benefits of innovative features such as the Truck App Portal and automatic tachograph downloads.
"Today's Actros is clearly the most advanced truck on the road and the feedback we've received from drivers since we set our first on the road last year has been resoundingly positive."