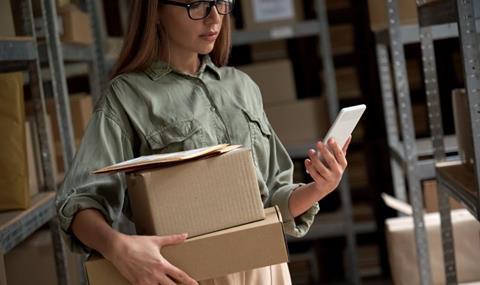 The global express and small parcels market grew by 12.2% year on year in 2021, with the B2C segment accounting for over half of the market's value, according to the latest research from transport consultancy Ti.
However, growth is set to slow in the global express and small parcels market as strong domestic and cross-border e-commerce sales decline and post-Covid lockdowns in China and political and economic headwinds intensify, Ti analysts are warning.
In its report Global Express and Small Parcels 2022, published this week, Ti reveals that the B2C segment dominates the express market globally and in all three of the major regions. Ti expects the B2C segment to represent 65.9% of the express and small parcels market by 2026.
However, the global express market is expected to grow at a slower pace in 2022 (9% y-o-y) than in 2021, reaching a market value of €503,534m (£448.5m), according to the research.
This trend is present across both the international and domestic segments, with both expected to see slower single-digit growth rates in 2022. International growth rates stand at 8.3% year on year whilst domestic is at 9.1%, the report says.
The report also reveals that integrators dominate the global parcels market, UPS being the market leader in terms of revenues, with €67.5bn (£60.1bn) of parcels-related revenue.
Another key finding in the report is the growth of parcel shops and lockers which it said have increased "significantly" in recent years.
It is estimated that there are more than 1.8 million pick up and drop off point (pudo) locations globally of which 1.2 million are parcel shops.
Pudo networks continue to be expanded, with new networks being rolled out in most countries and a high percentage of the global population now within a short distance of one or more locations, the report reveals.
Nia Hudson, one of Ti's research analysts team, said: "Strong demand from the retail e-commerce sector, paired with recovering GDP, helped fuel growth in the express market during 2021.
"However, the market now faces several headwinds. This includes persistent macroeconomic trends such as intensifying inflation challenges, the ongoing Ukraine-Russia war, high energy prices, continued supply chain disruption, and fresh lockdowns in China, which are expected to set the global economy on a downward trajectory over the next year."