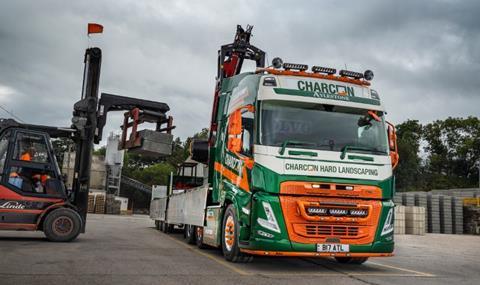 Aylestone Transport has taken delivery of a special Volvo FM 6x2 tractor unit adapted with a 540 hp engine, for use as part of its work with Aggregate Industries' commercial hard landscaping division, Charcon.
Backed by a 10-year three-star Direct Vision Standard permit, the truck will be used to haul slabs and kerbs into London.
'Bodge' Ward, MD at Aylestone Transport, said: "We've been ordering Volvos for many years now and so it was right at the top of the list when it came to choosing our latest addition.
"As far as we're concerned, Volvo Trucks is unmatched on both performance and reliability, as underlined by the strong resale value we see whenever it is time to move any of our older models on."
The vehicle is unique in the customer's fleet in that rather than sporting the company's traditional blue and white colours, it has been decked out in Charcon green, white and orange. It has also been paired with Kelsa colour-matched light bars, Lazer lights, beacons, side skirts, as well as Alcoa Dura Bright alloy wheels.
The new truck will be paired with an SDC trailer fitted with Aylestone's first Palfinger crane and will be used for crane haulage work five days a week.