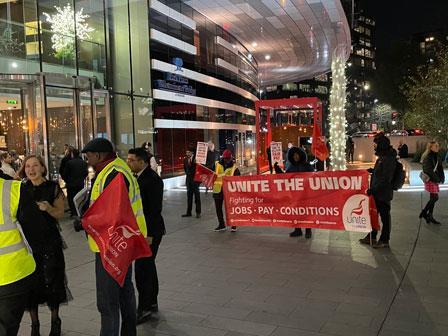 Employees of ArrowXL protested outside Logistics UK's annual awards ceremony in London last night in an ongoing row over pay.
The members of the Unite union held up a banner saying: 'ArrowXL Time to Deliver Fair Pay' outside the Park Plaza Hotel on Westminster Bridge Road.
Around 350 members of the union have been taking strike action since October and they blame the logistics firms for paying staff "poverty wages".
Unite claimed many workers are paid only the minimum wage and others are paid just above £9.50 an hour.
All-out strike action is also due to commence from 9 December, ramping up what was previously industrial action on every Tuesday, Thursday and Saturday.
Unite national officer Adrian Jones said: "The strike action is causing extreme delivery delays for all of Arrow's clients but this dispute is entirely of the company's own making.
"Arrow XL must drop its high handed and dismissive attitude to its staff and return to the negotiating table in order to agree a fair pay increase in line with the cost of living."
Despite the union stating that ArrowXL would have a "significant presence" at the awards ceremony, Logistics UK told motortransport.co.uk prior to the event that no representatives of the company would be attending.
A spokeswoman added: "We cannot comment on individual members' working practices as this would contravene the anti-competition regulations of the association."
ArrowXL did not want to comment, other than to repeat its assertion that it had seen minimal disruption across its sites and that it had already awarded employees a pay rise that equated to an average of 8.25%, along with additional benefits.