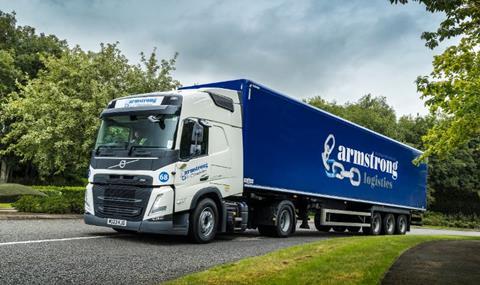 Lutterworth-based Armstrong Logistics said its 10 new Volvo FM 420 tractor units were actively helping to accelerate its decarbonisation goals.
The 4x2 Globetrotters expand the firm's fleet to 82 units and will be used to deliver to supermarkets across the UK, clocking up an expected annual mileage of 200,000km.
Marcus Fischer, commercial and finance director at Armstrong Logistics, said: "In today's logistics industry it is critical to always get the biggest bang for your buck, but that's only possible if the new vehicles you welcome on the fleet deliver what is predicted on paper.
"Time and time again Volvo Trucks has proven its products walk the talk.
"That consistency is also invaluable for reducing our fleet's carbon footprint – we've done several studies to understand how any new units we take can improve our sustainability, but, again, that approach only works if the trucks do what we are told they will."