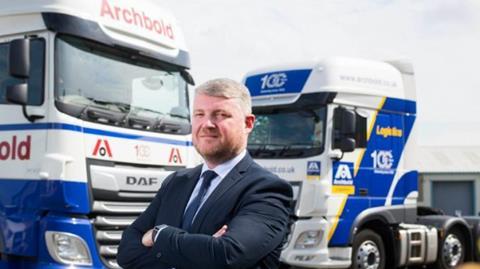 Archbold Logistics tripled its pre-tax profit last year by mitigating the effects of Covid-19 and withdrawing from less profitable work.
The distribution specialist saw turnover fall by 3.2% to £16.8m in the year ending 31 December 2020, but profit increased to £384,000 from £128,000 the year before.
The company said it had developed new key customers during the period and continued to cement relationships with long term key clients, while "progressively withdrawing from business that is insufficiently profitable".
Read more
In a review of the business, Archbold Logistics said: "These new contracts, when matched with existing work, have helped improve the profitability of the business on an ongoing basis and the company is now well positioned to grow turnover and profits in the coming years."
The company said it had invested in driver training, focusing on improving fuel efficiency and reducing accident damage and there had also been investment in staff training and internal re-organisation, "to incrementally improve internal performance."
It added: "As with the vast majority of companies, Archbold Logistics saw a temporary downturn in turnover in 2020 following the Covid-19 outbreak.
"Due to the varying nature of the products of Archbold Logistics' customers, the effects of Covid-19 on the business were largely mitigated."