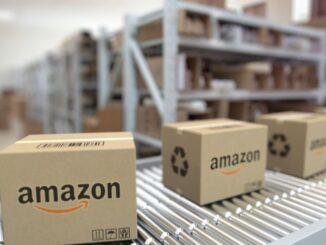 Amazon workers in a Coventry warehouse have announced an initial strike date.
The first-ever Amazon strike in the UK is set to take place on 25 January, with further dates to be announced in the coming weeks.
Hundreds of Amazon workers at the fulfilment centre have voted to walk out in anger over the company's 50p per hour pay offer.
The ballot, which closed on 16 December 2022, saw a majority of more than 98 per of workers vote to strike.
The GMB union said Amazon UK Services paid just £10.8m in tax in 2021, despite recording a pre-tax profit of £204m.
"Amazon workers in Coventry are set to make history on 25 January, becoming the first ever Amazon workers in the UK to go on strike," said GMB senior organiser Amanda Gearing.
Read more
"They've shown they're willing to put themselves on the line to fight for what's right.
"But people working for one of the most valuable companies in the world shouldn't have to threaten strike action just to win a wage they can live on.
"GMB urges Amazon UK bosses to give workers a proper pay rise and avoid industrial action altogether."
An Amazon spokesperson said: "We appreciate the great work our teams do throughout the year and we're proud to offer competitive pay which starts at a minimum of between £10.50 and £11.45 per hour, depending on location.
"This represents a 29% increase in the minimum hourly wage paid to Amazon employees since 2018. Employees are also offered comprehensive benefits that are worth thousands more — including private medical insurance, life assurance, subsidised meals and an employee discount, to name a few."