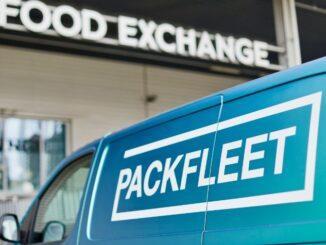 Packfleet said it had become the first logistics firm operating an all-electric fleet to become B Corp certified.
The certification issued by B Lab is for businesses meeting high social and environmental standards and to achieve it Packfleet had to score 80 or above in a B Impact Assessment.
The courier already powers its fleet of all-electric vans with 100% renewable energy.
It uses smart proprietary routing software, known as Pathfinder, which allows couriers to pick up recyclable packaging from customers on their routes.
Read more
Its fleet vehicles are wrapped in an aquamarine blue, reducing the impact of fading in the sun meaning less need to renew the wrap and a tree is planted for every parcel delivered.
Packfleet also said it does not rely on the gig economy and instead pays its fully employed drivers 30% higher than the industry average; they also receive benefits including enhanced paid parental leave.
Tristan Thomas, chief executive and co-founder of Packfleet said: "To be B Corp certified is a big deal for us and it's so important to recognise and thank the customers and merchants that made it possible.
"We set out with a mission to make sure every single Packfleet delivery improves our planet and we're achieving that."