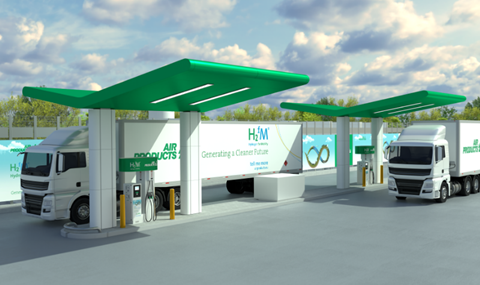 Gas supplier Air Products has signed an agreement to develop a multi-fuel, hydrogen refuelling station for HGVs in the port of Zebrugge.
The new station will be the first commercial-scale hydrogen refuelling station in Europe with liquid hydrogen storage.
It will be built and operated by Air Products in addition to other liquid hydrogen refuelling stations the company is developing throughout Europe.
The project itself is part of a wider strategy to support Belgium and Europe's sustainable development and ambition towards CO2-free heavy-duty road transport.
Read more
Air Products has signed the agreement with Aers Energy Belgie, the concession holder of the new lorry park where the refuelling station will be located.
"Our technology has already been used in more than 250 projects worldwide and we are proud to be working with Aers Energy België on this important project in Belgium," said Kurt Lefevere, Air Products VP for Benelux, Germany and France.
"The choice of hydrogen for heavy-duty vehicles, compared to other technologies, allows for faster refuelling, greater vehicle range and the elimination of all CO2 tailpipe and other criteria pollutant emissions."
For more stories tracking the industry journey to decarbonisation see our new Freight Carbon Zero website.