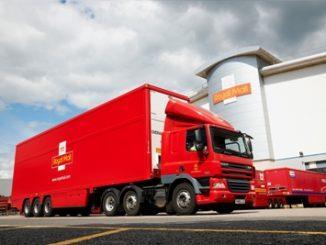 Royal Mail's "incredibly successful" parcel-pick up service has collected one million parcels from customers' doors since its launch in October 2020.
Parcel Collect enables online sellers and shoppers to stay in the comfort of their homes when they want to mail or return a pre-paid item by post.
Postmen and postwomen collect the parcel from their home or nominated safe place for 72p, in addition to postage costs.
It is also available for pre-paid return items at a cost of 60p per item.
Nick Landon, Royal Mail chief commercial officer, said: "The introduction of Parcel Collect has been incredibly successful, with one million parcels a fantastic milestone to reach in just five months.
Read more
"Parcel Collect is part of our commitment to continuously make our services more convenient for customers and makes it easier to use Royal Mail's services than ever before."
The postal company also said that letter volumes and revenue trends had been more robust than anticipated since its third quarter trading update.
Advertising, business and stamped mail were all performing above its previous expectations.
The group said that growth in parcels remained strong, but broadly in line with expectations.
It added that if the current trading performance continues for the remainder of March then it expected revenue for the full year to be more than £900m higher year on year.