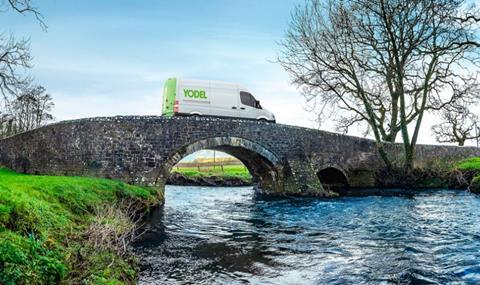 Parcel carrier Yodel has reduced its carbon emissions by 25% after investing £17m in its fleet and technology.
The strategy has seen it ensure all its vehicles are no more than three years old, making them compliant with Low Emissions Zone (LEZ), Ultra Low Emissions Zone (ULEZ) and Clean Air Zone (CAZ) requirements.
The business has also cut emissions by using Microlise technology to monitor data on its fleet's speed and location and to monitor road traffic levels.
Yodel's drivers also use Microlise's Android-based DriveTab tablet devices which have helped drive a 7% cut in fuel consumption. The firm aims to cut its mileage by over 4 million km this year.
Yodel has also increased its first-time delivery rates by using enhanced tracking technology and Yodel Inflight which allows customers to change delivery time and location up to the point of delivery, reducing the need for repeat visits.
Read more
It has also expanded its urban bicycle delivery service, in collaboration with Pedivan, rolling the service out to seven UK cities including London and Oxford.
In 2020 Yodel met its goal to deliver 150,000 parcels via pedal power. This year Yodel aims to deliver over 300,000 parcels through the service.
Mike Hancox, chief executive at Yodel commented: "Throughout the challenges of this past year we remained committed to positively contributing not only to our people and communities, but also to our environment.
"As a key operator in the logistics sector, we take our environmental responsibility very seriously. The proactive approach to becoming more eco-friendly is key in all our decision making and it is great to see that our long-term investment has tangibly reduced our impact on the environment.
"We continue to innovate and trial new ways of reducing our carbon footprint, and we're looking forward to improving our practices further, offering greener services, and contributing to Britain's 2050 net zero emissions target."