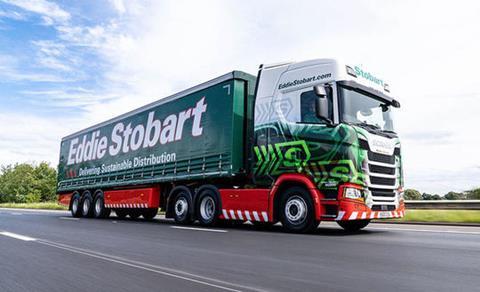 Scania (GB) has won an order for at least 2,250 trucks from Consortium Purchasing, an operation led by William Stobart, executive chairman of Greenwhitestar Acquisitions (which owns Eddie Stobart, The Pallet Network and iForce), and Allan Jenkinson (owner of A W Jenkinson Forest Products).
It represents the Swedish truck maker's largest ever European order for civilian trucks.
The trucks, a mix of P-, G-, R- and S-series tractors and rigids, and for the first time an unspecified number of multi-wheelers, will be supplied by Scania dealers Haydock Commercial Vehicles and Graham Commercials over the coming two years. They will be supplied on full R&M contracts, with all work carried out within the UK Scania service network, and will remain in service for up to three years.
More than 1,000 are destined for Eddie Stobart, with the remainder split between AW Jenkinson Forest Products and third member of the consortium WS Transportation.
This is the sixth time the consortium has placed a major order with Scania. The last time was 2018, when it purchased 2,100 units.
"We are absolutely delighted to have placed this order with Scania, especially in such challenging and uncertain times," said William Stobart.
"Scania's latest generation of vehicles – which we have now operated for three years – are continuing the long tradition of excellent service, reliability and good fuel performance we have come to expect from the brand. This, along with the consistently high levels of service we receive from the Scania network, is why we have chosen Scania to fulfil a large part of our truck requirements."
Added Scania (GB)'s UK sales director Vincente Connolly: "We are immensely proud to be reporting such positive news at this time. During our negotiations, both William and Allan were extremely complimentary about the special relationship which exists between our organisations, and has done so for many years. We now look forward to fulfilling the order and working with the teams within the consortium to deliver the best possible service and total cost of operation for each and every vehicle in this agreement."